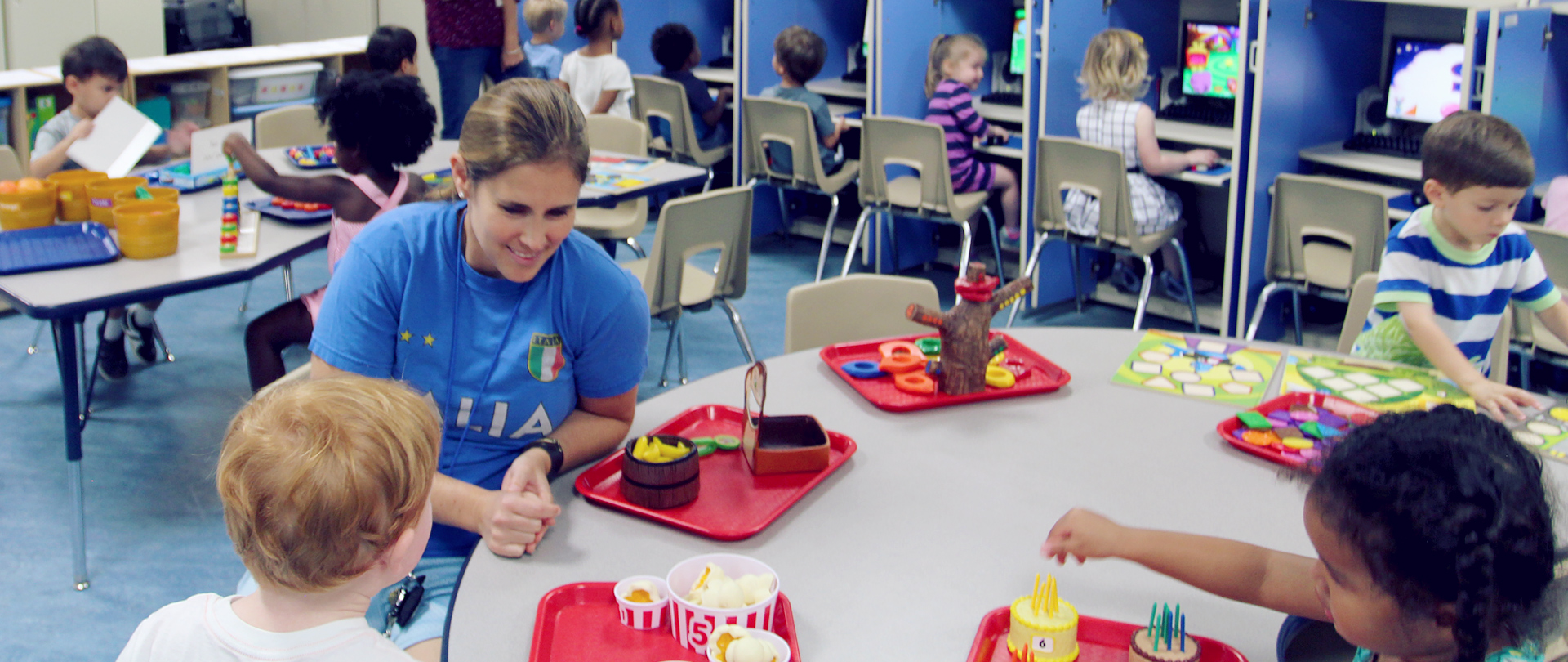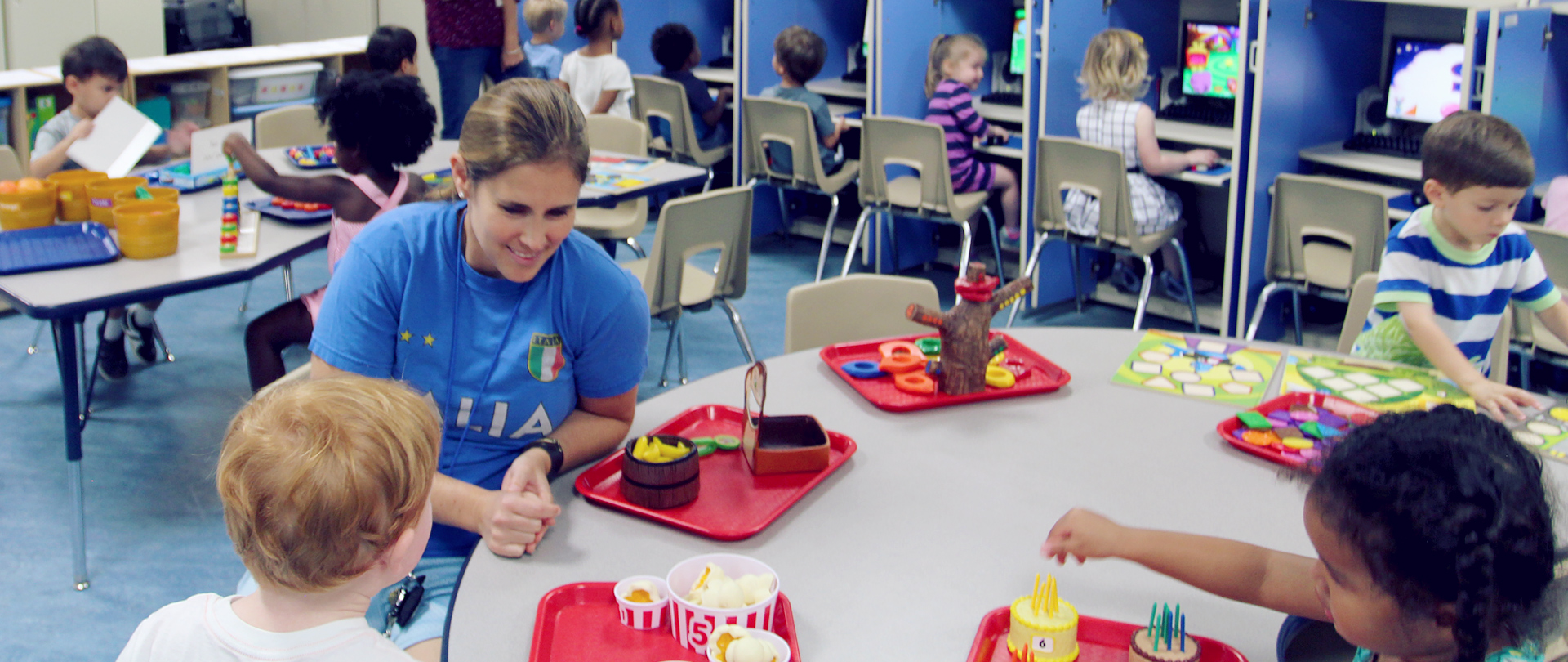 Specialized Subject Classes
Calvary Child Development Center is unique not only because of our staff and our integrated curriculum but also because of our "specialized subject classes," offering children early access to language, arts, and science activities to enrich their educational experience.
These specialized classes are favorites with our children! With the help of our talented teachers, the children discover new interests and skills and ways to express themselves.
Depending on the age level, we offer the following classes:
| | | |
| --- | --- | --- |
| + | | |

Art & Art Education

Offered in: Transitional Kindergarten, Kindergarten (weekly)

Art is for everyone! Through a wide variety of different art activities, we encourage each child to explore and experiment with their creativeness and to be proud of all their efforts!

Through our hands-on art projects, children are developing large and small motor skills with basic tools (scissors, crayons, paste, paint, and more) plus hand-eye coordination, visual awareness, and critical thinking — all while expressing their own creativity and having lots of fun!

Art & Art Education are offered as a separate class (TK/K) or incorporated into the classroom (4s) so that each child has the opportunity to encounter all mediums:

Chalk: Pastels, rubbings, wet chalk

Clay/Playdough

Crayon: Drawing, crayon resist, fluorescent crayons,
Paint: Finger-paint, splatter, sponge, free art, watercolor, washes
Paper: Tearing, folding, tissue, construction

Weaving & stitchery

Woodworking & constructions

| | | |
| --- | --- | --- |
| + | | |

Computer & Math Lab

Offered in: 3s and 4s Preschool/Daycare (weekly)

CCDC has a state-of-the-art computer/math lab, which includes PCs, iPads, a SMART Board, and a hands-on math curriculum to engage children as they build their technology skills and learn foundational math.

Our math manipulative tables are loaded with activities that bring math to life and help develop specific skills such as counting, visual perception, patterning, sorting, numeral recognition, puzzles, and measuring.


| | | |
| --- | --- | --- |
| + | | |

Drama & Music

Offered in: 3s and 4s Preschool/Daycare, Transitional Kindergarten, Kindergarten (weekly)

Let's dance and pretend! Drama & Music class at CCDC engages our children's imaginations and instills an appreciation for all types of music from all over the world, stimulating cognitive development and abilities and unlocking the potential for a lifelong love of music.

In Drama, children have the opportunity to pretend and create, interacting with each other with props and puppets, and practicing listening and language skills with recitation and rhyme. Movement activities include partner dancing, dancing with scarves, rhythmic ribbons, and free motion dance.

Class activities introduce all kinds of music, including children's standards, jazz, classical, Christian and international music, engaging children as they recognize patterns and loud/soft, ups/downs and highs/lows. They are also introduced to a wide range of musical instruments including rhythm sticks, tambourines, maracas, triangles, and bells.

| | | |
| --- | --- | --- |
| + | | |

Fun-N-Fitness
Offered in: 3s and 4s Preschool/Daycare, Transitional Kindergarten, Kindergarten (weekly)

In Fun-N-Fitness class, children build a foundation for a healthy future and skills for pre-writing and pre-reading as they develop confidence, control, and coordination — and have fun — within a safe environment!

Our high-energy Fun-N-Fitness teacher prepares age-appropriate activities that engage the children in active play like scooter riding, obstacle courses, water play, tumbling, and parachute play.

Extra special activities include Winter Wonderland, where the children pretend to ice skate and throw snowballs, and our commercial grade water slide during the warmer months!

| | | |
| --- | --- | --- |
| + | | |

Multicultural & Missions

Offered in: 4s Preschool/Daycare, Transitional Kindergarten, Kindergarten (weekly)

It's a small world after all! In our exciting Multicultural/Missions class, children "travel" around the world, "visiting" a different continent every month. They explore the culture, music (song, dance, and instruments), stories, maps, crafts, and clothing of exotic, faraway places. And sometimes, a guest from the region is able to visit and answer questions!

These trips provide opportunities for children to be richly immersed in the culture for class each week, introducing a broader reality and a view of how children live in other parts of the world. A particular emphasis is also on world outreach and missions, helping the children develop a heart for reaching out and sharing God's love with others.

Children learn that although they may speak different languages, wear different clothing, and eat different food, children from other countries and backgrounds are just like them. They like to play games, learn at school, and love their friends and families — and need to know about God's love.


| | | |
| --- | --- | --- |
| + | | |

Science & Labs
Offered in: 2s/3s/4s Preschool/Daycare, Transitional Kindergarten, Kindergarten (weekly)

God has revealed Himself in this amazing and beautiful world which He has created. We want to introduce children to science in a biblical, God-centered way that will inspire them to continue learning with enthusiasm and confidence.

Our science labs are designed to provide a hands-on, interactive sensory environment that will allow children to observe, explore and interact with scientific principles and the world around them. Two science areas and two teachers ensure that our 2s and 3s, and our 4s/TK/K are being challenged at the appropriate level for their ages and skills.

In our science units, we explore the properties of air and water, magnets, rocks and fossils, dinosaurs, simple machines, measurement (linear, volume, weight, and temperature), color and light, plant life, insects, food and nutrition, the human body, sea life, outer space, life cycles, birds, volcanoes, rainforests… and more!

All children ages 2–5 take part in lab sessions designed for their age level, beginning with a teacher-led presentation to introduce the topic, followed by a time of guided exploration and application through activities and experiences within the lab.

Older children (3 & 4s) receive a more extended lesson, but all children have the opportunity to become scientists, exercising their senses and critical thinking, and expanding their vocabulary and understanding of the world around them.

| | | |
| --- | --- | --- |
| + | | |

Spanish

Offered in: 2s/3s/4s Preschool/Daycare (weekly)

Each week the children have a Spanish class with a native Spanish-speaking teacher.

Our comprehensive Spanish language curriculum teaches children their colors, animals, shapes, community helpers, how to count to 20, and much more! Each month the teacher sends home a sheet explaining the month's lesson focus with pictures, vocabulary, and a pronunciation key.

Our consistent curriculum allows us to help children steadily progress with their Spanish language skills, building on the learning achieved in each age level as they advance.