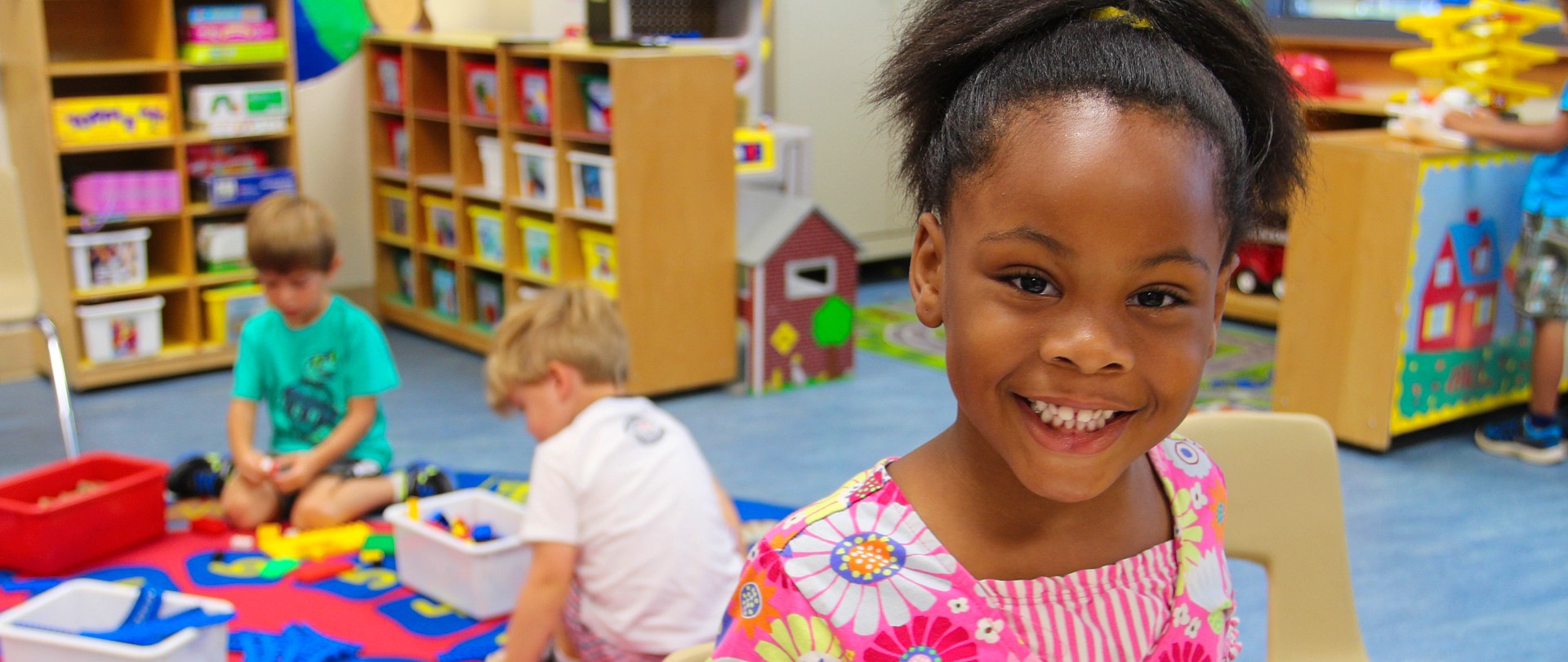 Calvary Child Development Center (CCDC) is committed to providing the highest quality Full Day and Half Day Preschool programs in a nurturing, Christian environment. We focus on helping each child develop academically, spiritually, physically, emotionally, and socially by providing unique opportunities to learn, grow, and begin to discover his or her God-given gifts.
The CCDC was founded in 1977. We are a ministry of Calvary Church and share Calvary's Christ-centered focus as well as its campus and facilities.
"Whoever receives one such child in my name receives me" — Matthew 18:5

Our Mission
At the Calvary Child Development Center, we seek to glorify Jesus Christ and make Him known. We want all the children who attend our program to know that God loves them. This love is demonstrated in the Gospel through the life, death, and resurrection of our Lord Jesus Christ.

By nurturing our children and sharing the love of Christ, we want to help them develop strong values and character in a happy and secure environment, founded on the truth of God's Word, the Bible.

Our Vision
Our vision is to have the children and families who attend Calvary Child Development Center experience the love of God and the truth of the Gospel through our relationships as we educate and care for the next generation.


A Well-Rounded Experience

Our hands-on, developmentally appropriate activities target all aspects of early childhood development while emphasizing the love of Jesus Christ. We strive to maintain a balance of child-initiated play with teacher-directed activities.

Qualified Teachers

Our teachers are experienced, certified Early Childhood Educators who receive ongoing training. The teacher′s role in our developmental program is to design an environment where learning is optimized for each child and where teachers share knowledge based upon a foundation of Christian principles. Read more about our staff and teacher requirements.

Integrated Curriculum & Enrichment Classes

Our program offers a customized integrated curriculum for each age level, from infants through transitional kindergarten, which includes a unique and broad exposure to science, art, music, multicultural studies, and more. Read more about our integrated curriculum and enrichment classes.

Daily Structure & Class Size

Our staff follows a defined schedule each day for all ages full of creative, high-interaction, fun-filled activities. Class size is small to ensure that each child receives the individual attention they need. Every classroom has a lead teacher and an assistant teacher.

"Train up a child in the way he should go; even when he is old he will not depart from it." — Proverbs 22:6

God has given parents and teachers the awesome responsibility of nurturing the children He has placed in our care.

We believe it is important to teach the Bible to young children. In faith, we believe that when we plant the seeds of God′s Word, the child develops in the wisdom and knowledge of God and His ways.

Our teachers include a daily Bible lesson, including songs, Bible stories, and Scripture verses. Teachers also use this time to present life application lessons that connect to children′s lives in a meaningful, age-appropriate way. In all of our curriculum, God is presented as our Sovereign Creator, in control of our lives and universe.


Regarding discipline at CCDC, we follow the recommended guidelines and policies defined by the North Carolina Division of Child Development.

Our main objective is to provide consistent praise, positive reinforcement, and encouragement as a means to manage classroom behavior.

When disrupting classroom situations occur, redirecting the child is first attempted.

A limited "age-minute" timeout is then implemented to give the child time to re-think his/her behavior if necessary.

Then the child is allowed to re-enter the classroom activities.

If this is not successful, a conference with the teachers and parents will be called to discuss positive methods, which can be used at home and school to promote more appropriate behavior.

No physical punishment is allowed at the Center.